Invited talk
Soil Organic Carbon - Basics of biogeochemical modeling and application from Southern and Northern Europe
December 2, 2019
Given by Mr. Antonis Apostolakis,
PhD researcher,
Max-Planck Institute for Biogeochemistry,
Department of Biogeochemical Processes,
Germany
Conference
Crop Nutrition Products - New European Regulation and Greek Reality
May 29, 2019
<![if !vml]>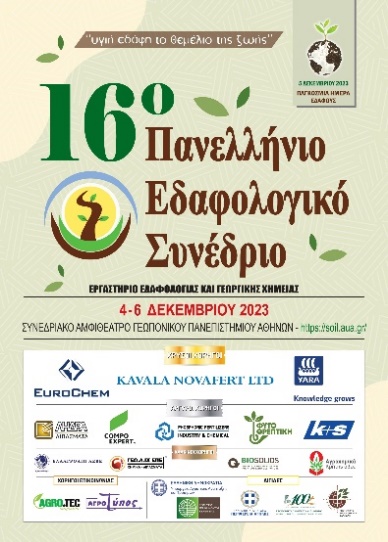 <![endif]>
The Conference was co-organized by PlanTerra and the Hellenic Fertilizers Association.
The head of the PlanTerra Institute, Prof. Dimitris Bouranis, opened the Conference by saying that this initiative aims at strengthening the interconnection between the agricultural academia and the agricultural community, and he announced that the 28th International Symposium of CIEC will take place in Greece on 16-20 March 2020 .
The Vice-Rector for Finance, Planning and Development, Prof. Iordanis Hadzipavlidis, and the President of SPEL Mr. Nikos Koutsougeras, agronomist MSC, introduced the conference representing the University and the Association respectively.
In the first section of the Conference, the main points of the New European Fertilizer Regulation were presented by the Director General of SPEL, Dr. Fotini Giannakopoulou. In coordination with Mr. Yiannis Panagos, the Agrenda publisher, representatives of Hellenic Fertilizer Companies discussed how the new regulation affects the Greek reality. Invited speakers, representatives of the Fertilizer Companies discussed the opportunities, prospects and potential problems they are expected to face when implementing the new Regulation.
In the second section, Prof. Dimitris Bouranis, presented as an example the developments and prospects of the use of amino acids in the nutrition of cultivated plants. Representatives of Fertilizer Companies presented, analyzed and discussed on the new technologies, digital tools and parameters influencing the design of innovative fertilizer programs by companies active in the crop nutrition sector. Through the speakers' presentations, the whole spectrum of the emerging new trends in the field of crop nutrition today was presented and the dynamics of the fertilizer industry was highlighted.
In the third section, an extensive discussion was held, where invited speakers from eleven fertilizer companies and the PlanTerra advisory board members analyzed the dynamics of the link between the academic community, the active agronomists and the fertilizer industry and market. Opinions were expressed and documented on the new requirements at all levels, as well as for the job prospects of the students after completing their studies at the Agricultural University.
The conference was attended by representatives of the academic community, many students, representatives of the Ministry of Rural Development and Food, as well as executives of member companies of the Hellenic Fertilizers Association.
PlanTerra and the Hellenic Fertilizers Association participated in the
17th World Fertilizer Congress of CIEC
September 3-7, 2018,
Shenyang, China
Prof. Dimitris Bouranis represented both the PlanTerra Institute and the Hellenic Fertilizers Association in the Congress with the following presentations:
<![if !supportLists]>- <![endif]>Bouranis D.L., Bilalis D., Chorianopoulou S.N., Ehaliotis K., Katinakis P., Massas I., Savvas D. (2018) PlanTerra - Centre for Plant Nutrition and Soil Quality at the Agricultural University of Athens, Greece.
<![if !supportLists]>- <![endif]>Giannakopoulou F., Koutsougeras N., Vevelakis Ioan., Kyriakidis N., Rousseas D., Karipidou M., Bouranis D.L., Ehaliotis K.(2018) Hellenic Fertilizers Association - Mission, Activities and Prospects.
Invited talk
Agricultural newspapers and websites
The Agrenda newspaper
March 27, 2019
Given by Mr. Yiannis Panagos
Agricultural Journalist, Director & Editor
Invited talk
The Non Parasitic Deseases Laboratoty
at the Benaki Phytopathological Institute
April 17, 2019
Given by Dr. Maria Doula,
Head of Non Parasitic Deseases Laboratoty
Invited talk
Plant Biostimulants
May 8, 2019
Given by Mr. Kostas Voyiantzidis,
Agronomist MSc., Microspore Hellas SA
Invited talk
Specialty fertilizers containing bioactive compounds that exhibit hormone action in crops
May 22, 2019
Given by Mr. Angelos Kefalas,
Agronomist MSC., Phytothreptiki SA
Invited talk
The Hellenic Fertilizers Association
May 23, 2018
Given by Dr. Fotini Giannakopoulou,
Hellenic Fertilizers Association, Director